Guitar Tutor eBoox – Level 1 (Debut)
Code: GTB-1.v2
Publisher: Big Bang Music
Grade: Debut
Series: eBoox
Description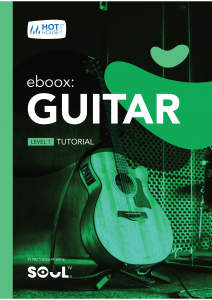 Big Bang Music are delighted to bring
to you this series of tutor boox developed
in partnership with the award-winning team
at Hot House Music
The boox series features 100% of original content
which is designed to support and tutor entry level
musicians as they progress towards Grade 1.
We want you to enjoy playing all types of music
and hope that you enjoy the content of this boox.
Always remember that music should be fun and it
is much more fun when you "play with a friend or
as part of a band". Why not send us recordings of
yourselves playing music from these boox?
https://www.facebook.com/bigbangsheet
#joinourtribe #bbmusic #boox #eboox #hhmusic
Need help???
Tel: 03303 200 880
Email: info@bigbangsheetmusic.co.uk
Web: www.bbmusic.co.uk
www.twitter.com/hhyouthjazz
www.twitter.com/joneno
www.instagram.com/HHMusicSchool
www.facebook.com/bigbangsheet
www.twitter.com/bigbangsheet
www.hhmusic.co.uk
www.bbmusic.co.uk
Can't find what you're looking for?
Call us on 07792 550 437
info@bigbangsheetmusic.co.uk